About the Rey Perales Memorial Scholarship Fund
Application & Instructions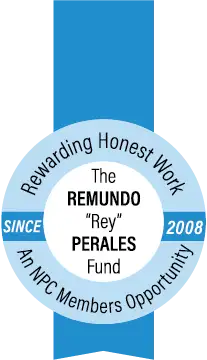 It is the purpose of the scholarship fund to provide annual college scholarships to the children of NPC Members and their employees. The dollar amounts of the scholarships and number granted will be determined by the Scholarship Committee annually, based on the available funds. The range of dollar amounts will be a minimum of $500.00 to a maximum of $5,000.00. Scholarships will be announced in January of each year and will be awarded at the National Plasterers Conference the following February.
For more information or clarification regarding these rules and instructions, please contact the National Plasterers Council at (847) 416-7271 or email us at mail@npconline.org.
ELIGIBILITY TO APPLY FOR THE SCHOLARSHIP
Applicants must be a legal son or daughter of an employee of a Member Company in good standing (any membership category) of the National Plasterers Council. Applicant must be at least a Senior in High School or no more than a Junior in College or enrolled in a masters program.
SCHOLASTIC STANDING
Applicants applying as entering Freshman must have been accepted as a full-time student, as defined by that institution, at an accredited college, community college or trade school and must have maintained a scholastic grade point average of 3.0 or better for the two (2) years of High School study preceding their application; or if applicants are currently enrolled in an accredited college or community college, they must have carried a minimum of ten (10) hours credit or equivalent and have maintained a cumulative 3.0 grade point average. Effective with 2022, students working on their masters will also be eligible for the scholarship.
LETTERS OF RECOMMENDATION
All applicants must furnish two (2) letters of recommendation. Letters should address the student's scholastic ability, character and worthiness to receive a merit award. Letters should be from the following:
A professor or teacher, or
An employer, or
An advisor from a volunteer or extracurricular activity.
Letters should be sent directly to the National Plasterers Council by the author or, if submitted by the student, in a sealed envelope signed by the author over the seal. All letters must be received by December 15th, 2023, or the application is considered incomplete and will not be reviewed by the selection committee.
THE APPLICATION & DEADLINE
All applications and other required materials, including Research Essay, must be received at the National Plasterers Council by the close of business on December 15th, 2023 in order to be considered for the upcoming academic year. Applicants who are chosen to receive a scholarship will be notified no later than February 1st, 2024. One application per applicant is allowed.
ESSAY REQUIREMENT
A researched Essay Paper or recorded PowerPoint presentation in English answering one of the following questions must be submitted in Modern Language Association (MLA) Format. The paper must be at least 1000 words and no more than 1500 words, or recorded PowerPoint 5 – 7 minutes in length. A bibliography (work cited page) must be included but is not included in the overall word count of the paper. Plagiarism is not allowed and is reason for disqualification.
Essay must be received by December 15th, 2023.
1) Why become an NPC member? What are the benefits? How can you contribute to the NPC by becoming a member? What are the financial benefits to your company by becoming an NPC member?
2) Pitch an innovation in business management, tools, or materials to the swimming pool plaster industry.
AWARDED SCHOLARSHIPS
The Scholarship Committee shall base its awards equally on the following three areas:
Scholastic Achievement
Character
Research Paper
Awards shall be mailed directly to the student for the summer or fall Semester of study during the year awarded. Failure to provide proof of registration where you have been accepted by June 1st of the year awarded may be grounds for forfeiture of the award. Any award funds not used for whatever reason must be returned to the National Plasterers Council within the year received. Awards are solely the decision of the Scholarship Committee which will be reviewed in a "blind" format so no committee member will be able to identify an applicant. All awards are final.