Technical Bulletins
Pool Interior Finish Disclosure
Tech Bulletin 1 – Testing Fill Water: It has been a long held recommendation in the swimming pool industry to test the tap or fill water of a swimming pool (regardless of the interior finish) prior to filling a new pool. Read more…
Tech Bulletin 2 – Hydration & Curing: The essential element in all good communications is that the parties involved must understand the vocabulary of the language used by one another in expressing their ideas and thoughts. Read more…
Tech Bulletin 3 – Swimming Pool Interior Finishes & Chemical Etching Deterioration: Swimming pool cementitious finishes are one of the most popular types of in-ground pool surface coatings because of the beauty and durability. Read more…
Tech Bulletin 4 – The Most Common Reasons For Loss of Color: Pigments have been used in swimming pool cementitious finish coatings for many years. The diversity of available colors, together with a variety of finish options, allows for almost limitless possibilities of aesthetic variation to be achieved. Read more…
Tech Bulletin 5 – PCA/NPC White Cement & Swimming Pool Plastering: White cement meeting ASTM C150, ASTM C595, or ASTM C1157 ("white cement") is used in plaster, concrete, and masonry materials for a variety of architectural and decorative applications. White cement is specified in these applications for its color consistency, appearance and the ability to create a durable, rock-like material. Read more…
Tech Bulletin 6 – Hot Weather Considerations: Currently, there is no Standard or Specification limiting the ambient air temperature for plastering. In fact, most cement and concrete trades have no such limitation. Read more…
Tech Bulletin 7 – Swimming Pool Cementitious Interior Finishes "WATERTIGHT" vs. "WATERPROOF": The watertightness of a swimming pool is achieved from a combination of the shotcrete or concrete structure and the interior finish coating. Read more…
Available Downloads
Be sure to download the following recommended resouces from NPC.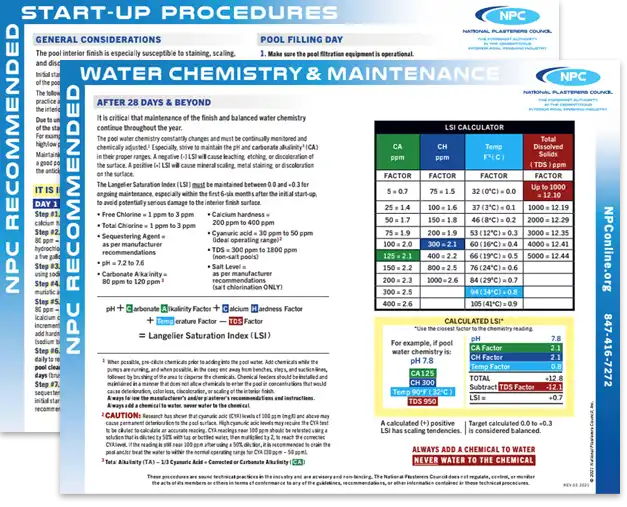 NPC Start-up Card
Proper start-up and maintenance of your freshly plastered pool is critical. Swimming pool maintenance is more than simply adding sanitizer, adjusting the pH and running a filter. Proper chemical treatment is necessary to prevent problems such as mineral scale and metal stain formation, cloudy water, or deterioration of the interior finish and the equipment.
NPC 2022-23 Membership Directory & Resource Guide
The Membership Directory & Resource Guide pulls together all relevant information about the NPC and all we do for our members to provide a valuable resource for the pool industry, the plaster trade, and the marketplace. This year, you have new feature articles, new technical information, as well as a complete list of all NPC Members.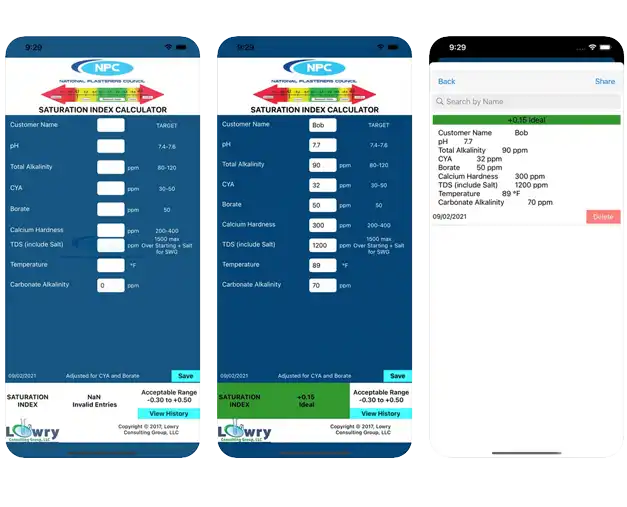 NPC LSI Calculator App
Have you downloaded the NPC LSI Calculator app? It is the most advanced and accurate calculator for determining the Langelier Saturation Index (LSI) for swimming pool and spa water. It was developed by noted pool and spa water chemistry expert and author, Robert W. Lowry. It is the only LSI calculator that currently has exact adjustments for cyanuric acid and borate.
Technical Information
Cal Poly Evaporation Study – Effectiveness of Pool Covers to Reduce Evaporation from Swimming Pools
Water is one of the earth's most precious resources and is fundamental to quality of life, economic development, and the environment. However, drivers such as population growth, natural variability and change in climate, and urbanization are making water availability increasingly uncertain (Schnoor, 2008). In California, for example, the persistent and severe drought the state faced during the last four years has called for unprecedented measures including Executive Order from Governor Brown mandating 25 percent reduction in potable urban water use. In response, cities and water management agencies across the state have enforced water conservation measures to meet the mandate.
---
Torching: An Inexpensive Way to Eliminate Tough Pool Stains
When a plaster pool becomes severely discolored or stained, inexpensive remedies to fix the problem are limited, unless the pool professional is skilled in the process of torching. Torching can quickly remove a small water stain from plaster or a large discoloration that otherwise might require tearing out the pool surface and replacing it with a new one.
White Papers for Pool Owners
Be sure to download the following recommended resouces from NPC.
Why Hire An NPC Member?
The NPC is here to assist you and offer direction in your decision. Spend more time enjoying your investment!
Why Use a Certified NPC Technician?
It is common sense for owners & contractors to take the necessary steps to protect their investments.
Directory & Resource Guide
Our guide pulls together information about the NPC and its members to provide a valuable resource.
Additional Resources & Affiliations
Through collaborations and affiliations with other organizations, we are able to innovate, share ideas and learn from the experiences of others. Below are links to additional technical resources that you may find helpful.